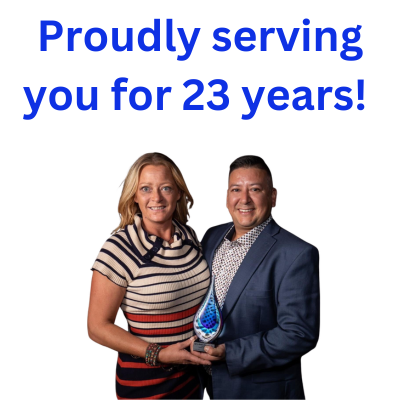 Since it's inception in 2000, Simply Pure Water has been providing top-notch water treatment and drinking water solutions for St. Thomas and surrounding areas. What started as a "Mom and Pop Store", founded by Darlene and Henk van Pelt, has grown into a regional powerhouse, providing drinking water and water treatment solutions throughout southwestern Ontario. In 2019, Darlene and Henk decided that it was time to retire and sold the operation to long time partner Chris Patriquin and his wife Jame. Chris and Jame have continued the tradition of providing superior products and services with a focus on maintaining and developing long term relationships in our community. Simply Pure Water takes an active role in giving back through donations to numerous community organisations. Chris and Jame are active volunteers as well. Chris serves on the Board of Directors for the St. Thomas and District Chamber of Commerce while Jame sits on the Planning Committee for the STEGH Foundation's Annual Gala.
In 2019, Chris and Jame both stepped out of their comfort zones as participants in Dancing with the Stars at the Station in support of the historic CASO Station in downtown St. Thomas.
In 2021, Simply Pure Water added our Refill Not Landfill Division. Conscious of our environmental impact and sustainability, this division provides a refill depot for many common household products, from cleaning to personal care, reducing the plastics that go to landfill.
In 2022, Jame and Chris received a Lifetime Business Achievement Award from St. Thomas Economic Development Corp. and the Small Business Enterprise Centre.
Chris and Jame are optimistic about the future and look forward to serving our community for many years to come!
Some of our associations are listed below.  Click the links for more details.
Follow us on one of your social feeds to stay connected: